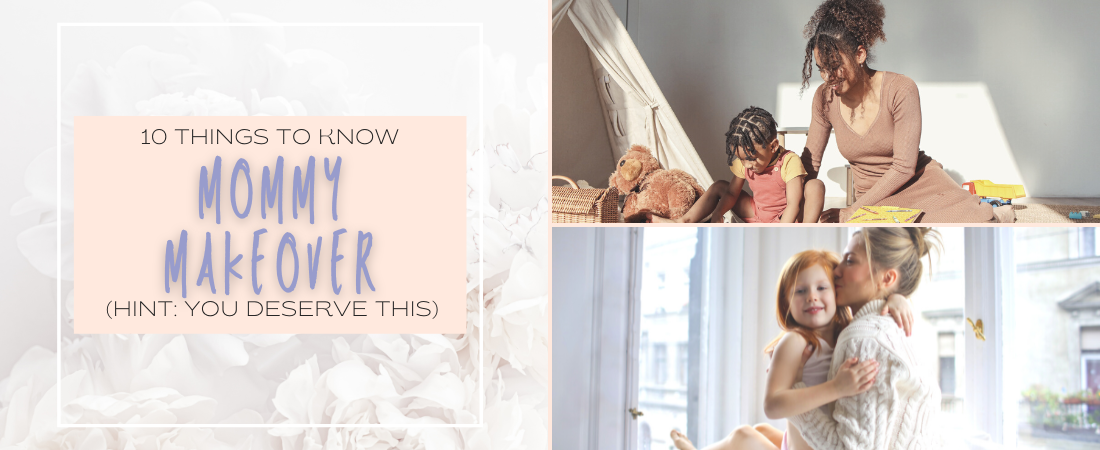 -Dr. Megan Jack, Board-Certified Female Plastic Surgeon in Knoxville, TN
Ok moms—it's time to get REAL. Being a mother is REALLY hard and REALLY exhausting—physically and mentally. Carrying, delivering, and nursing children REALLY takes a toll on our bodies. Moms are REALLY good at caring for others and REALLY bad about practicing self-care. You know it and I know it. I'm guilty of it myself!
"You Deserve to Do Things for Yourself!!"
As a mom of two young girls, I know all too well the toll that all of the above takes on how we feel about ourselves. I also know how hard it is to take time to do something for yourself because you don't feel like you should. Well, here's the first thing to know about a Mommy Makeover:
1. YOU DESERVE TO DO THINGS FOR YOURSELF
You are likely caring for children and your spouse, running a household, possibly even juggling all of that with a career, and if you're like me you probably barely have the time to get a pedicure. Taking some time to do things for yourself that make you feel mentally and physically refreshed can actually REALLY help you be a better mom/spouse/boss/employee/friend. Your responsibilities do not have to stand in your way. Knowing details, how to prepare, and handle each step of the mommy makeover process will empower you to feel more comfortable before, during, and after your procedure.
Let's dig into the details so you can arm yourself with the "mom knowledge" you need to do this for yourself. . . as well as some tips for fitting this procedure into your busy lifestyle.
2. WHAT IS A MOMMY MAKEOVER AND WHAT SURGERIES ARE INCLUDED IN A MOMMY MAKEOVER AT EAST TENNESSEE PLASTIC SURGERY?
Most post-pregnancy women experience these changes in their body:
Change in their breasts including sagging, deflation, and increase/decrease in their pre-baby volume
Loose skin of the abdomen and a tummy pooch
Abdominal muscle separation (i.e. diastasis recti)
Areas of stubborn, unwanted fat
A Mommy Makeover is a 100% customizable combination of surgical procedures to address your post-partum problem areas and help you reach your goals and regain your confidence. Several shorter procedures are combined into one longer surgery to allow for: one anesthesia, one recovery, one period of limitation from your normal day-to-day life (KEY for busy Knoxville moms).
Common procedures combined for your mommy makeover may include:
Breast Lift – lift/reshape drooping breasts
Breast Augmentation with Implants – increase breast volume with implants
Natural Breast Augmentation – increase breast volume with fat grafting
Breast Reduction – lift/reduce large, drooping breasts
Tummy Tuck – repairs muscle separation, removes loose skin/fat
Liposuction – removes unwanted fat
Other? – Pregnancy-related changes to the body are unique for each mother; we may consider other areas of concern to help you reach your goals.
3. WHO IS A GOOD CANDIDATE FOR A MOMMY MAKEOVER?
If you're a mom, you're already in the game. As a general rule, moms who meet the following criteria are good candidates for this surgery:
You are generally in good health (i.e. without major medical issues that make cosmetic surgery risky)
Your weight has been stable within 5 or so pounds for several months and you are at or near your goal weight
Your Body Mass Index (BMI) is at or below our range of comfort for surgical risk (32-34 in MOST cases; exceptions are occasionally made)
You are back in a decent routine of healthy lifestyle choices (e.g. nutrition and exercise)
You are not breastfeeding or pumping to feed your child
You are not using nicotine or can abstain for at least 8 weeks prior to and after surgery
You are unhappy with the size, symmetry, and/or shape of your breasts
You have stubborn areas of fat you'd like gone
You have loose skin of the tummy or a "belly pooch"
You have core/abdominal muscle weakness, rectus diastasis (or ab muscle separation)
You are ready to get your pre-baby body back (and then some ????)
4. IS IT BEST TO DO ALL THE SURGERIES AT ONCE OR BREAK THEM UP?
Mommy Makeovers are a VERY common surgery in our Knoxville, TN plastic surgery practice! There's a reason!! Moms often wear many hats—spouse/partner, mom, businesswoman, house manager, bus driver, carline guru, coach, counselor, housekeeper, chef extraordinaire—we get REALLY good at juggling (& mastering the iPhone calendar)! Busy mamas most often prefer the advantages of having several procedures all at once—one anesthetic, one recovery, one period of needing help with household and kid logistics. Then there's this possible benefit: You can usually save money on operating room and anesthesia fees, as well.
On the flip side, a mommy makeover isn't for everyone. The recovery for bigger, longer surgeries is more demanding than that of smaller, individual procedures (see below for tips!). The risks of longer surgeries may also be higher than shorter surgeries. We have precautions in place to help but the risk of infections and problems with healing may be higher for longer surgeries. Additionally, while some love the financial savings of the combined approach, not all women can commit to that larger financial investment in one chunk. Budgeting for multiple, smaller surgeries is sometimes a better fit. When you schedule your consultation with one of our board-certified plastic surgeons who specialize in cosmetic surgery in Knoxville, TN, we will sit down and have a conversation to help you sort out which is best for you.
5. SHOULD I WAIT UNTIL I'M DONE HAVING CHILDREN TO GET MY MOMMY MAKEOVER?
YES! Well, usually. For your traditional Mommy Makeover in east Tennessee, we recommend you wait until you are done having biological children. If you're reading this, you know the toll pregnancies take on our body during and after. The last thing you want to do is invest physically and financially in reaching your post-baby body goals and then have another pregnancy and reverse what we did together. It could technically be redone. . . but who wants to do that!? IF you find yourself pregnant post-tummy tuck—rest assured that pregnancy is safe for you and the baby; your abdominal muscles and skin will be able to stretch. It just may not be cosmetically ideal—you may feel like you never had your tummy tucked if you are blessed with another pregnancy after Mommy Makeover surgery.
Breast and liposuction surgery can be done at any point, even if you think you might want to have more children. Depending on your specific pregnancy/nursing experience and where your body lands after it's complete, you may or may not desire additional procedures to restore your results. If you prefer to maintain your look without reinvesting in subsequent procedures, plan your mommy makeover after you are finished having those little bundles of joy.
If you know you want more children BUT just want a little boost until you're done, there may be some other less-invasive options for you. Check in with one of our Knoxville board-certified plastic surgeons to find out.
6. HOW DO I PREPARE FOR MY MOMMY MAKEOVER?
If you're a mom like me, you are a planner. So do what you do mama, and PLAN!! Here are a few key tips:
Your body will need time to rest, heal, and recover. Plan to give it the grace and time it needs to do that—you're more likely to heal better if you do. PLAN not to do your normal day-to-day activities for about 2 weeks and line up support to help do those things for you during that time. DO NOT TRY TO BE SUPERWOMAN!
PLAN to take 1-2 weeks off work if you work outside the home. You may opt to save up your PTO and/or use vacation days if necessary. In the last few years, the boom in remote work has helped tremendously—if you are able to do remote work, most women will feel up to jumping on their laptop within a few days so you may NOT need to take as much time off.
PLAN to be unable to lift anything heavy (including children) or do more intense exercise/housework for 4-8 weeks after surgery depending on the procedures you need. This is your free pass to get out of laundry/dishes/vacuuming for a few weeks! You're welcome (LOL).
Get yourself in the habit of healthy lifestyle choices – nutrition and physical activity – before surgery. You want it to be your new habit of health before your Mommy Makeover, so that you will easily be able to maintain it after. In addition, we know that people who are in better physical shape prior to surgery tend to have an easier recovery.
If you still have children at home, especially younger ones, PLAN ahead for help with childcare. You will not be able to lift little ones, even in/out of car seats and cribs. You will not be able to do school drop off or bus kids around for at least a week.
PLAN out your early recovery—make freezer meals for you/the family, do your shopping ahead of time, get post-surgery supplies (including comfy recovery clothes and prescriptions) and have them ready in your recovery oasis in your room or a guest room. You may want to also consider having the house cleaned right before surgery, putting things that you may regularly need that are out of reach to an in reach position for the first week (e.g. coffee mugs), and practice getting in/out of bed without using your ab muscles. At East Tennessee Plastic Surgery, prior to surgery we provide you with detailed information including a shopping list for our suggestions of what to have at home.
PLAN out your mindset. We often focus and stress over the physical recovery after surgery; BUT don't underestimate the potential mental/emotional strain. It's not uncommon for there to be a flood of emotions (both good and bad) after cosmetic surgery. We will cycle through all our feelings and post-operative medications can sometimes exacerbate that. We wonder . . .what have I done? Can I do this? Was this the right choice? When will this be over? Will I be happy with how I look? These are all normal feelings and it's ok to feel them. You may cry. You may laugh. Doing some mindset work and meditation before surgery can really help get you prepared for the mental/emotional work after. And yes . . . you CAN do this!
7. HOW LONG IS MOMMY MAKEOVER RECOVERY AND WHAT DOES IT LOOK LIKE?
Recovery from bigger surgeries like this requires us as moms to step out of our comfort zone and be a little selfish for once. You must plan to have no plans for at least 2 weeks; meaning, you can't be a caregiver for anyone during that time. You will want to clear your calendar, including bigger social events during that timeframe to allow yourself to recover and feel more normal before you get back into the swing of things. For your classic Mommy Makeover including breast augmentation (with/without lift) and traditional tummy tuck with muscle repair we have the following restrictions after surgery:
No driving for at least 1 WEEK
No swimming or underwater activities (baths, swimming pools, hot tubs, lakes/ocean) for 3-4 WEEKS (showers are encouraged)
Light activity (nothing that increases heart rate/blood pressure) for 1 MONTH
No heavy lifting or using chest/core muscles for 2 MONTHS
You can and should take a nice steady paced walk starting the night of surgery and increase to longer walks a few times per day during the light activity period. You are NOT on bedrest—walking helps to prevent blood clots! You can go back to basics of self-care such as showering, making coffee, fixing yourself a snack, etc. after a few days. You WILL NEED HELP AT THE BEGINNING!
For Mommy Makeovers that include a traditional tummy tuck, you also need to plan to sleep in a "beach chair" type position and walk flexed at the hips (little ol' granny style) for 1-2 weeks. This can beat up the lower back some and some patients opt to use a walker during this time frame. Also note the mental/emotional comments from #6 above. Plan some quiet time into each day to relax, breathe, and meditate (if you're into that).
You will in many cases be in a surgical bra and some type of abdominal compression girdle for about a month after surgery—consider clothing options to cover said garments. You may or may not have a surgical drain. In many cases, we try to do a drainless tummy tuck—occasionally, a drain will be left with more significant amounts of liposuction to help control fluid drainage. If a drain must be left in place, it is often removed painlessly in the office 1-2 weeks after surgery.
You will have a follow up appointment schedule according to your surgeon's preference. My typical schedule is appointments at: 1 day, 1 week, 2 weeks, 1 month, 3 months, 6 months, 1 year, and every other year (breast implant patients only) after surgery.
8. WHEN IS THE BEST TIME FOR ME TO HAVE A MOMMY MAKEOVER?
Moms have a busy schedule. Finding time to do something for ourselves is so hard—much less time to recover from an elective procedure. It's imperative that as you consider scheduling your Mommy Makeover surgery in Knoxville that you really dig into your family calendar first! Here are a few tips to consider before putting the date on the calendar:
What does your vacation/holiday/major event schedule look like? You will want to plan to have at least 1 month in between your surgery date and any big trips or events to allow enough time to heal and to be able to wear event-appropriate clothing.
When would it be best to wear those (not so sexy) compression girdles that are often important for healing? Hot summers may not be the most convenient time.
When is your family or babysitter available to help with childcare and other regular household work?
When will you have work holidays, breaks, or accumulated PTO? It is often best to schedule surgery during regular off or slow seasons at work.
Other factors to consider for appropriate timing include:
For breast surgeries, you should be done nursing/breastfeeding for at least 4-6 months to allow time for your milk to dry up.
Consider waiting until you are done having biologic children prior to proceeding with a Mommy Makeover
Ideally, try to be within 5-10 pounds of your goal weight prior to proceeding
Plastic surgeons in Knoxville, including your board-certified East Tennessee Plastic Surgeons – Dr. Tim Wilson and Dr. Megan Jack – are often booked out for surgery for several months. It's best to schedule a Mommy Makeover consultation at least 3-6 months prior to when you think you may be ready to ensure being able to find a time that successfully meshes with your calendar.
9. WHAT SHOULD I TELL MY KIDS ABOUT MY SURGERY?
You certainly know your children best and what specific information they are mature enough to handle. We certainly encourage you to be honest and open with your children and provide them with enough information to help them understand what they will see and maybe feel when mommy has surgery. Most children would likely benefit from being told that:
Mommy is choosing to take some time to have a surgery to help her feel better BUT she is not sick. You may even want to explain that mommy's body can change from having babies by being stretched some and that the doctor is going to help you feel strong and healthy again.
Surgery can be scary sometimes and that is ok for them to be nervous or scared. Reassurance that mommy is healthy, she has chosen doctors that will take the best possible care of her, and that she is doing things to keep herself healthy before and after surgery will help to ease their little minds some while also acknowledging possible fears that are reasonable for them to have. You staying calm will help them stay calm.
Mommy will feel tired and need to take lots of naps after surgery.
Mommy won't be able to be able to take care of them for the first few weeks like she normally does but there will be others around to help them.
Make sure to set boundaries that feel appropriate – climbing on, hugging, jumping on, holding, picking up, etc.
If your kids are older and curious or concerned about the process, consider helping them learn more about surgery in general—who knows. . . it might even get them interested in a medical career! They may also be interested in ways they can help you after surgery.
Encourage your children to join you for calm, quality time reading books, playing games, watching family movies, or working on puzzles.
10. WHAT WILL I TAKE FOR PAIN AFTER MOMMY MAKEOVER SURGERY?
Everyone's experience of pain after surgery is different and the specific procedures combined to customize your Mommy Makeover can also impact how you feel during recovery. For most of our patients undergoing Mommy Makeover surgery in East Tennessee, narcotic pain medications are an option to help control the early discomfort experienced and typically only about 3 days of these medications are needed. It is not uncommon for our board-certified plastic surgeons at East Tennessee Plastic Surgery to offer a prescription for a muscle relaxer to take after surgery. This type of medication can help ease the spasm-type muscular pain that some patients experience after a breast augmentation and/or tummy tuck. Our patients often describe that pain as similar to doing a "million" push-ups and/or crunches. In addition, we highly recommend a combination of the muscle relaxer with alternating ibuprofen and acetaminophen (Tylenol) as directed for pain as needed.
Finally, you have the option of a special injectable medication, called Exparel, that can be used at the time of surgery to help reduce post-operative pain after Mommy Makeover. This medication is NOT a narcotic; rather a long-acting numbing medication similar to the injection you get to "freeze" or numb areas when you go to the dentist or get a skin biopsy at your dermatologist. Exparel lasts for about 3-4 days and while it will not make you pain free, it has reduced the need for post-operative pain pills after these types of surgeries. Our patients have enjoyed its benefits and we routinely have patients who take zero narcotics when Exparel is used in combination with the muscle relaxer/ibuprofen/acetaminophen medication cocktail after surgery.
IS A MOMMY MAKEOVER RIGHT FOR ME?
Maybe! The best way to decide if a Mommy Makeover in Knoxville is right for you, is to schedule a consultation with one of our board-certified plastic surgeons near you in our East Tennessee office. At your initial consultation, you will be welcomed into our friendly office, meet our ETPS team, and have privacy to discuss what concerns you have after pregnancy. Your plastic surgeon will then examine you and advise you on which procedures can be combined to your customized Mommy Makeover plan to help you reach your goals. There will also be an opportunity for you to ask questions so you can make an informed decision about whether surgery is the right choice for you.
If you have more questions about Mommy Makeover in Knoxville or would like to schedule your consultation today with one of our plastic surgeons, call or complete our contact form. You can also scroll through our Facebook, Instagram, and Before/After Galleries to see examples of our cosmetic surgery results. Please also feel free to learn more about Our Practice or Dr. Tim Wilson and Dr. Megan Jack.
ETPS is the only private plastic surgery practice in Knoxville, TN that offers patients the option of a male or female plastic surgeon. We work as a dynamic team to offer exceptional, safe care in an environment where you are part of our ETPS family. Similar to building a friendship, establishing a relationship with your plastic surgeon is essential to a positive experience and happy outcome. Mutual trust is critical to successful doctor-patient relationships. You deserve to have the time to establish that trust and to really understand what you're getting into. . .and THAT is what our ETPS Plastic Surgeons, Dr. Tim Wilson and Dr. Megan Jack strive to provide.
Let ETPS help you #StayBeautiful
#staybeautiful #boardcertified #mommymakeover
Dr. Tim Wilson and Dr. Megan Jack are board-certified Plastic Surgeons in East Tennessee--your ONLY male and female board-certified plastic surgeon team in Knoxville, TN. They offer East Tennessee over 37 years of combined experience in cosmetic and reconstructive surgery specializes in breast surgery, tummy tuck, body contouring, and Mommy Makeovers. Both doctors are passionate about delivering top-notch care and the best results possible.