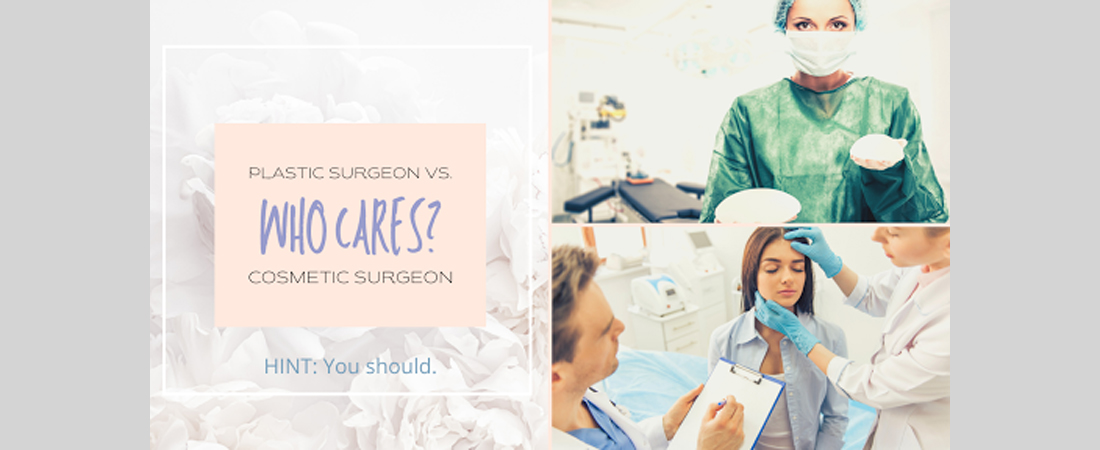 Dr. Megan Jack - Board-certified Plastic Surgeon in Knoxville, TN
I've had a number of patients consult with me in our Knoxville, TN office recently who have had surgery by a cosmetic surgeon or have consulted with cosmetic surgeons. Some of their experiences were . . .interesting, to say the least. Most recently, I had a patient frantically call after returning from having her liposuction and tummy tuck in Miami, FL. She was concerned she had a fluid collection under her skin. She had called her Miami surgeon's office (not a board-certified plastic surgeon) and they advised her to purchase syringes and needles on Amazon and drain it herself! Good thing I was wearing a mask because I'm pretty sure my jaw nearly hit the floor. Not only is that dangerous but puts her at risk for serious complications! Fortunately, she was smart enough to be uncomfortable with that terrible recommendation and called us for help. When I talk to these patients about the difference between a plastic surgeon and a cosmetic surgeon, their eyes POP open wide – they have no idea there is a difference.
"Plastic surgery and cosmetic surgery both focus on improving the body, however, their specific goals differ slightly and training to learn the procedures are distinct."
Are you under the impression that plastic surgery and cosmetic surgery are the same thing? If your answer is yes, you are not alone, and I don't blame you. The terms are often used interchangeably, especially on the internet and social media. There are plastic and cosmetic surgeons everywhere . . .advertising, operating, posting TikTok videos. They boast their beautiful results and frankly, many of them are beautiful! But using one term for another is not technically or medically correct. Plastic surgery and cosmetic surgery are related specialties, but they are not the same by a long shot.
As a consumer in the non-medical community, many assume when you consult and schedule cosmetic surgery that you are seeing a plastic surgeon. You assume if they can perform surgery that they completed a full residency and/or fellowship in their specified field where they spent years learning how to do these surgeries. But unfortunately that just may not be the case.
So how DO you become a knowledgeable, informed cosmetic consumer?
Do. Your. Diligence. We are going to help you learn how in this article.
What's the difference between Plastic and Cosmetic Surgery?
The goal of cosmetic surgery is to improve a patient's aesthetic or cosmetic appearance by enhancing proportion, symmetry, and aesthetic appeal. It can include any area of the body, typically in the skin and fat layers but deeper layers such as bone and muscle may occasionally be involved depending on the procedure. Plastic surgeons perform cosmetic surgery, however other doctors who aren't necessarily residency-trained in a surgical field may perform cosmetic procedures as well. Cosmetic surgery may include:
Skin Rejuvenation (wrinkle relaxers [i.e. Botox], dermal fillers, non-surgical skin tightening and fat reduction, laser resurfacing, etc.)
Breast Surgery (Breast Augmentation, Breast Lift, Breast Reduction)
Body Contouring (Liposuction, Tummy Tuck, Fat Grafting, Mommy Makeover, Skin Removal after Massive Weight Loss, Buttock Augmentation, etc.)
Facial Rejuvenation (Face/neck Lifting, Eyelid Lift, Brow Lift, etc.)
Plastic Surgery is a surgical specialty that focuses on repair, reconstruction, or replacement of body and facial defects in form and/or function resulting from diseases such as cancer, injury, burns, and congenital disorders. It is reconstructive in principle, anatomic in nature, precision oriented, and seeks to correct defects/injuries. Although most plastic surgeons receive training for cosmetic surgery during residency or complete an Aesthetic Fellowship post-residency, plastic surgery residency is well-rounded and includes aesthetic and all aspects of reconstructive surgery. Plastic surgery may include:
All of the above Cosmetic Procedures
Breast Reconstruction
Scar Revision Surgery
Skin Cancer Surgery
Hand Surgery
Congenital Defect Surgery (e.g. cleft palate)
Burn Surgery
Plastic Surgery Training is Distinct from Cosmetic Surgery Training
Surgeons who become board-certified plastic surgeons must complete a 5-year general surgery residency plus a 3-year residency in plastic surgery or integrated 6-year program. Cosmetic training is usually included in these programs, but it's one of many types of plastic surgery learned during training. Consequently, the title, Board-Certified Plastic Surgeon, refers to a specific level of experience and training in plastic surgery but not just in cosmetic surgery.
Much of the training for cosmetic surgery occurs after residency. To date, there are no residency programs in the US which exclusively devote training to cosmetic surgery. Hence, physicians receive their training after their residency and in a post-residency fellowship (for plastic surgeons, most often both during and after). "Cosmetic surgeons" are often trained in general surgery (or some other field) first and may obtain a one-year fellowship in cosmetic surgery.
Unfortunately, in most states any licensed physician can legally perform cosmetic injections and surgeries regardless of training, therefore it's important to research physicians before moving ahead with surgery. There are certainly physicians who are trained in emergency medicine, internal medicine, dermatology, oral surgery, obstetrics/gynecology and the like who for one reason or another decide they should get to perform cosmetic surgery too. They tend to go to a weekend or best-case scenario a week-long course where they "learn" to perform cosmetic surgery from people who are again, not plastic surgeons. These doctors then tout themselves as "cosmetic surgeons."
Plastic surgeons doing a lot of cosmetic surgery generally do not call themselves cosmetic surgeons, rather plastic surgeons who specialize in cosmetic surgery. If you see a doctor calling themselves or advertising as a "cosmetic surgeon," I'd venture a guess that when you look up their certifications they're NOT a trained plastic surgeon.
Cosmetic surgery is generally an honorable profession; however, it's important to be clear on the differences between board-certified plastic surgeons and cosmetic surgeons. When searching for a surgeon for your cosmetic (or reconstructive) procedure, there is no surgeon better suited than a doctor certified by the American Board of Plastic Surgery (ABPS).
Board certification by the ABPS is a rigorous process that requires completion of an accredited plastic surgery residency program followed by a period of practice experience then written and oral examinations. By choosing a plastic surgeon certified by the ABPS, you can be assured that your surgeon has completed the appropriate training, passed a meticulous examination process, follows a strict code of ethics, & our board monitors to ensure safe, ethical, & efficacious practices! Plastic surgery board-certification encompasses the entire spectrum of plastic surgery including cosmetic, reconstructive, craniofacial, and hand surgery—the entire body! Plastic Surgeons are required to perform surgery in accredited, licensed facilities and generally have admitting privileges at one or more hospitals. Finally, surgeons certified by the ABPS are required to maintain certification and complete continuing education annually.
The American Board of Medical Specialties (ABMS) is the leading organization for physician board-certification in the United States and is the gold standard in patient care and safety. The ABMS recognizes the ABPS as a legitimate, esteemed board. It does NOT recognize "cosmetic surgeons" or any board with Cosmetic Surgery in its name. They reserve this prestigious and important honor for the American Board of Plastic Surgery. Cosmetic surgeons, even those certified by boards other than ABPS are not granted hospital privileges so cannot admit and care for their patients that experience complications.
What's the Bottom Line?
Although a cosmetic surgeon may be adequately competent for injections or can perform liposuction and breast augmentations with good results, in the event of an unexpected complication, most patients would prefer the more well-rounded surgeon trained in managing risks. Being a plastic surgeon certainly does not mean our patients never have complications—they absolutely can. However, given our wide berth of training in both reconstructive and cosmetic surgery and with a background most often in general surgery, we are equipped to manage our own patients and help them back to a healthy recovery.
Would you let your dentist or veterinarian do your tummy tuck? No? Me neither. So why would you let anyone else with inadequate training do so? Patients are wise to research potential surgeons' overall residency and post-residency training, reviews, and practice experience to learn their level of competency in cosmetic procedures. So do your research, be diligent with your surgeon selection, ask the important questions, and be a smart cosmetic consumer.
Let ETPS help you #StayBeautiful
Your ONLY male and female board-certified plastic surgeon team in Knoxville, TN.
To find out if your plastic surgeon is board-certified by the ABPS, visit here. To learn more about the training and certifications of your East Tennessee Plastic Surgery surgeons, please visit our website or give us a call!
#staybeautiful #boardcertified
Dr. Tim Wilson and Dr. Megan Jack are board-certified Plastic Surgeons in East Tennessee. They offer the only male and female plastic surgeon team in private practice in Knoxville to give you the option for both perspectives and for your comfort. They offer East Tennessee over 35 years of combined experience in cosmetic and reconstructive surgery. Both doctors are passionate about delivering top-notch care and the best results possible.